Back
Oct. 03 2022
Green Dot Award: Kroonpress acknowledged for sustainability efforts
Koenig and Bauer, the world's oldest printing press manufacturer, now active in many more areas of printing, launched the Green Dot Award in 2022. CEO of Kroonpress Andres Kull, who was dubbed by K&B as a visionary leader in sustainable printing, has the honour of being the first ever recipient of this sustainability award. The award was presented at an Executive Summit on 30 September 2022 in Würzburg.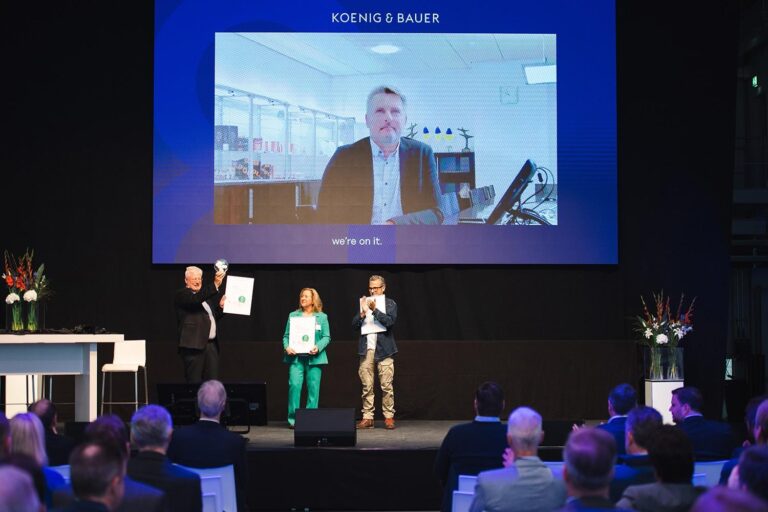 Among its accolades, Kroonpress can count setting annual sustainability goals and obtaining 100 percent of its electricity from renewable sources. However, the company's advocacy for sustainability dates back even further.
In 2011, Kroonpress created Greenline Print, a cradle-to-gate lifecycle carbon footprint platform. This type of analysis tracks the carbon impact of a product from its production to its arrival in store. Since Greenline's conception, Kroonpress has issued millions of magazines and other printed products that bear the Greenline Print CO2 label.
With the advent of Kroonpak and packaging manufacture, calculation platform Greenline Package was developed, which works in parallel with the Print platform. Packages contain a QR code and a sub-page is created for each package, which details CO2 emissions by grams per product and how these emissions are divided between the material composition, energy consumption and transportation.
With the Green Dot Award, Koenig & Bauer wants to honor a visionary leader with outstanding ideas who has already made innovative contributions to sustainable printing in a special way.
Koenig & Bauer
/
Green Dot Award
In addition to recognition for long-term sustainability efforts, the Green Dot winner received 10,000 euros in prize money and another 10,000 euros to support their choice of sustainability project. Kroonpress decided to support global social action World Cleanup Day, organised by NGO Let's Do It World.

The choice to support World Cleanup Day was easy, what with it being an Estonian initiative. Since 2008, this movement has brought together millions of people across 157 countries and counting.
Our donation will assist in the organisation of the next World Cleanup Day on 16 September 2023, whose primary aim this year is to engage 5% of each country's population. A worthy goal for a worthy cause Kroonpress is proud to support!

* Read the full article about the Green Dot Award here:
https://www.koenig-bauer.com/en/news/details/article/koenig-bauer-presents-green-dot-award-2022.