Back
Nov. 16 2022
CEE Great Start Supplier Award by KFC
Kroonpak was today awarded the CEE Great Start Supplier Award in recognition of their exceptional service and the quality of their packaging solutions. This award was presented as part of the Yum! Brands Annual Supplier Conference, where Yum! shares their visions, values and strategies with their suppliers and recognises their contributions to the success of the company. Such an accolade is a testament to Kroonpak's commitment to excellence and reliability.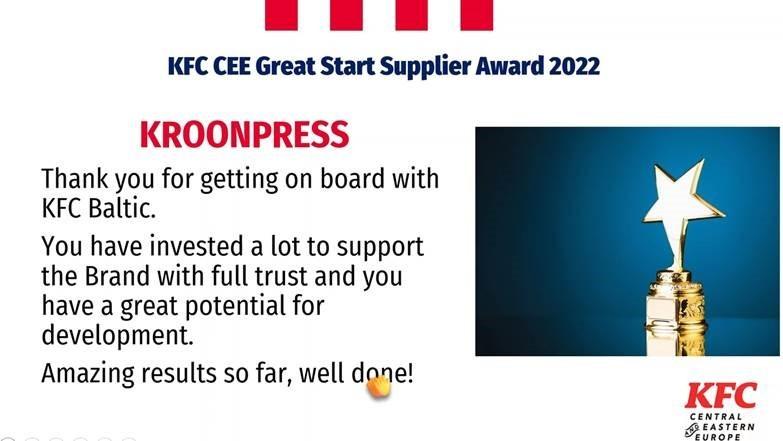 Kroonpak manufactures the full range of packaging used by KFC Baltic, which comprises boxes, pockets, bags for fries, food-wrapping papers, trays, and assorted cups and buckets. One of the highlights of this range is the children's food box – the only product also designed by Kroonpak. We have been glad to learn that this playfully designed and colourful box has been well-received by the kids.
Some KFC packages come with smart features we are happy to provide. For example the packaging with a tear-strip option, as seen on the Boxmaster pocket, makes the fast-food experience more convenient and hassle-free. Food becomes easily portable, ready to eat later. Tear-strip packaging also helps to maintain the hygiene of the food by minimising hand contact with the food inside the packaging, a particularly important feature during the current era where hygiene is a top concern.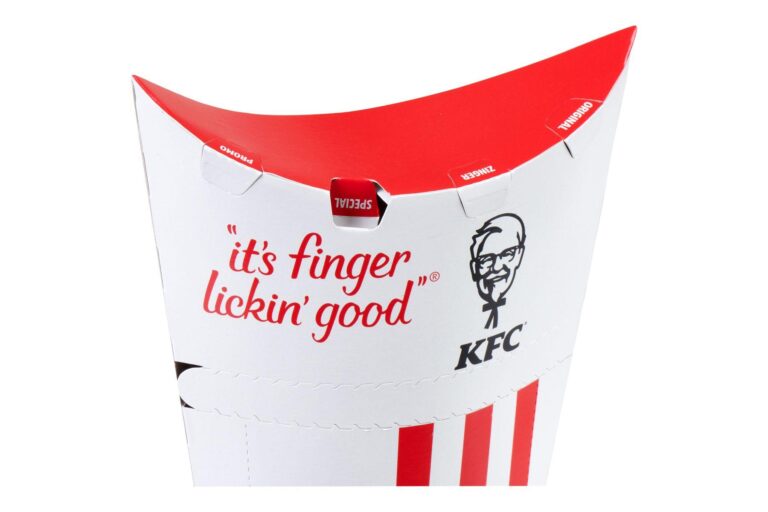 Another smart option is tabbed packaging. Packaging has small tabs that can be pushed in or out to indicate the type of food or dietary option contained within the packaging. Tabbed packaging makes it easier for consumers and employees alike to identify the type of food, especially when several meals are ordered at once, reducing the risk of order errors and keeping the customer happy.
Kroonpak's production for KFC has helped maintain the quality of the food consumers know and love. Moving forward, we remain committed to collaborating with and innovating for the FMCG and HoReCa sectors.